"A brilhante flor dourada,Cure Bloom!"
輝く金の花、キュアブルーム!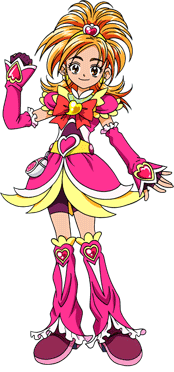 "Kagayaku kin no hana, Kyuaburuumu!
Cure Bloom (キュアブルームKyuaburuumu ) é o alter-ego Pretty Cure de Hyuuga Saki,abençoado com o poder das flores.Quando Karehan ataca a Arvore do Mundo com um Uzaina,Flappy se torna o Mix Commune(Comuna Mix) e transforma Saki em Cure Bloom,junto com Mai,que com a ajuda de Choppy se torna Cure Egret.Ambas conseguem derrotar o Uzaina,e descobrem que devem lutar contra os Dark Fall.

Junto com Cure Egret,ela consegue realizar o ataque Twin Stream Splash(Duplo Fluxo Inicial) e Spiral Heart Splash(Borrifador do Coração Espiral) com os Aneis Espirais.No episodio final,ela,Cure Egret,Kiryuu Michiru e Kiryuu Kaoru,que são Cure Bright e Cure Windy no momento,realizam o Spiral Heart Splash Star(Borrifador das Estrelas do Coração Espiral),o ataque final.
Cure Bloom é a primeira Cure da franquia Pretty Cure em que a transformação muda a cor do cabelo.
Ad blocker interference detected!
Wikia is a free-to-use site that makes money from advertising. We have a modified experience for viewers using ad blockers

Wikia is not accessible if you've made further modifications. Remove the custom ad blocker rule(s) and the page will load as expected.