"Tocando as Cordas em um som elegante,Cure Rhytm!"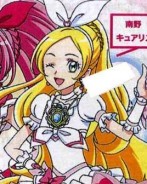 「奏でるはたおやかな調べ キュアリズム!」
Kanaderu wa taoyaka na shirabe, Cure Rhythm!

Cure Rhytm é o alter-ego Pretty Cure de Minamino Kanade.Ela é uma das Cures principais de Suite Pretty Cure♪,a oitava temporada da série Pretty Cure.Ela é bastante semelhante á Cure White.
Seu objeto de transformação é seu Cure Mojule junto com a sua Fairy Tone,Rery,fazendo com que seu cabelo mude de cor e ela se transforme em Cure Rhytm.
Cure Rhytm,junto com Melody,fazem um ataque juntas chamado Passionato Harmony,que purifica os Negatones.Com a ajuda de Cure Muse,ela pode fazer uma ataque mais poderoso chamado Fantastic Piachere.Junto com Melody,ela pode depois fazer um ataque mais poderoso chamado Music Rondo Super Quartet.
Cure Rainbow Rhytm
Edit
Cure Rhytm ganha essa nova forma no filme Pretty Cure All Stars DX 3: Mirai ni Todoke! Sekai wo Tsunagu Niji☆Iro no Hana,usando o restante de poder da Prism Flower para poderem derrotar Black Hole.Nessa forma,o vestido de Rhytm fica bem mais longo,seu cabelo fica um tom mais brilhante de amarelo e asas douradas aparecem em suas costas.
Cure Rhytm é a única cure loira que não usa seu cabelo com maria-chiquinha.
Ad blocker interference detected!
Wikia is a free-to-use site that makes money from advertising. We have a modified experience for viewers using ad blockers

Wikia is not accessible if you've made further modifications. Remove the custom ad blocker rule(s) and the page will load as expected.